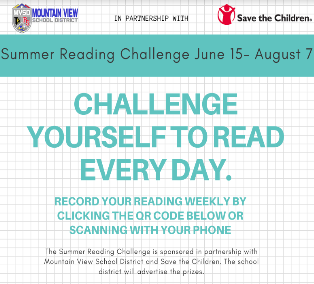 Summer Reading Challenge
MVES
Tuesday, June 23, 2020
Mountain View School will be handing out Summer Brain Quest workbooks on June 25th 10:30-12:30 at the Mountain View Elementary School front entrance. If you have a student in grades k through 4, please come pick up your child's book.
Summer Reading Challenge:
We will have a summer reading challenge starting this June until August 7th. Using this link, https://www.surveymonkey.com/r/Summer2020ReadingArkansas enter your child's reading each week. We will be drawing for prizes throughout the summer. Information can be found on the school web page and Facebook.